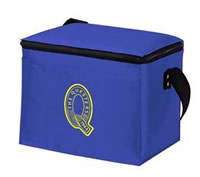 Iowa Questers are selling Koozie Six-Pack Koolers for $8.00 to raise money for the 2016 International Convention in Des Moines on May 19-May 23. If you are interested in purchasing a Kooler done in Quester blue and featuring the gold Quester image please contact the Iowa Questers.


The Questers is a non-profit International Organization, which was founded in 1944 by Jessie Elizabeth Bardens.  Its major objectives are to stimulate an appreciation of antiques and their collection, and to encourage and support grants for the preservation and restoration of existing historical buildings and landmarks locally, statewide and internationally.

Our goal is to preserve historical buildings, sites and artifacts in the present and for the future.  This is accomplished with Preservation and Restoration Grants for projects at the local, state and international level.
Iowa currently has 125 chapters with almost 1,700 members and remains the state with the largest membership in the International organization. 

Iowa Questers are devoted to their local historic landmarks and museums. 

Iowa Questers continue to recognize our 4-H youth for Preservation & Restoration projects at our State Fair. Some chapters have begun to recognize youth at the County level, further promoting the value of Preservation & Restoration with our youth.

The Iowa Questers Glass Collection, housed in the Brunnier Art Museum, on the campus of Iowa State University, has grown to nearly 1,100 glass pieces.

LOCATIONS OF IOWA CHAPTERS

This map shows locations where there are Quester chapters across the State of Iowa. If you would like more information about becoming a Quester, please contact us through the website. If there is not a chapter in your area, the First Vice President may be able to help start a new chapter.

WHAT'S IN A NAME?

Ever wonder how Quester chapters get their names? Click Here to find a listing of all of the Iowa chapters and what their names mean.

FEATURED PROJECTS OF IOWA QUESTERS

Preservation and Restoration Grants


Glass Collection Fund

Terrace Hill Fund

4H Preservation & Restoration Award
Click Here to read more about our projects.