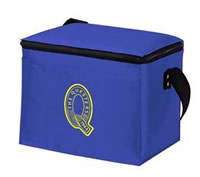 Iowa Questers are selling Koozie Six-Pack Koolers for $8.00 to raise money for the 2016 International Convention in Des Moines on May 19-May 23. If you are interested in purchasing a Kooler done in Quester blue and featuring the gold Quester image please contact the Iowa Questers.


The Questers is a non-profit International Organization, which was founded in 1944 by Jessie Elizabeth Bardens.  Its major objectives are to stimulate an appreciation of antiques and their collection, and to encourage and support grants for the preservation and restoration of existing historical buildings and landmarks locally, statewide and internationally.

Our goal is to preserve historical buildings, sites and artifacts in the present and for the future.  This is accomplished with Preservation and Restoration Grants for projects at the local, state and international level.
Iowa currently has 135 chapters with 1,953 members and remains the state with the largest membership in the International organization. 

Iowa Questers are devoted to their local historic landmarks and museums. 

State Day was held in the Iowa City/ Coralville area in April and our theme was "Explore the Arts in Iowa City – Art Pottery, Wave Crest Art Glass, and 1142 – The Grant Wood House." Iowa awarded just under $9,000 in State Preservation and Restoration Grants to chapters at State Day in April.  Themed Opportunity Baskets were raffled off and Ways and Means sold cookbooks, ornaments and jewelry to raise money for future State P&R grants. Questers purchased items from the Treats & Treasure table to help defray costs for the Hawkeye Tales newsletter. Sales for the day totaled $3,382.15.  Iowa Questers sponsor four (4) Area Days and one State Day meeting each year, where members gather for educational seminars, friendship and antiquing.

Iowa Questers continue to recognize our 4-H youth for Preservation & Restoration projects at our State Fair. Some chapters have begun to recognize youth at the County level, further promoting the value of Preservation & Restoration with our youth.

The Iowa Questers Glass Collection, housed in the Brunnier Art Museum, on the campus of Iowa State University, has grown to nearly 1,000 glass pieces.

Our current Iowa President is recommending the acquisition of a historical piece or pieces of glass, colored and/or cut to honor the Iowa Questers "50th Anniversary" and the "Iowa International Convention" which will be held in Des Moines in 2016. These objects will be funded by chapter contributions, accrued interest and any monies voted by the Executive Board from the General Fund for this project.

FEATURED PROJECTS OF IOWA QUESTERS

Preservation and Restoration Grants


Glass Collection Fund

Terrace Hill Fund

4H Preservation & Restoration Award
Click Here to read more about our projects.